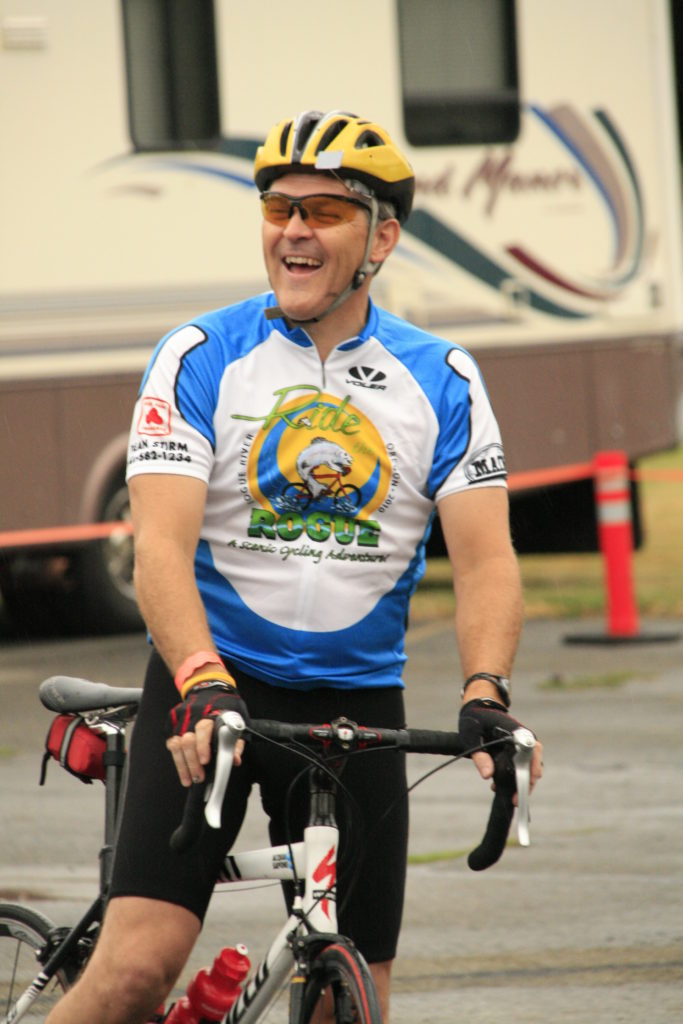 A Southern Oregon Cycling Adventure!
All the rides have plenty of rest stops so you can ride light, and as fast or casual as you like!  Sag support is available if you need it.
Packet pickup Sept 25th, 3 to 6 PM at Palmerton Park and starting at 6:30 AM on Saturday.
Watch a recent News Story!
Ride start times:
Century            7 AM
Metric              8:30 AM
40 Mile            9:30 AM
20 Mile            10:30 AM
Family             11:30 AM
Century 99 mile
This route takes in as much of the Rogue River as possible. All the rest stops for this route are on the beautiful and scenic river so bring your camera, you might see bald Eagles soaring over the river or nesting in a tree along the river. This route has 5 rest stops for refueling and taking in the scenic river. Lunch is provided for riders on this route
Metric 67 mile
This route is just a shorter version of the Century route with 3 rest stops along the Rogue River. Lunch will be provided for riders on this route.
37 mile route
This is a shorter version of the metric route with 1 rest stop on the Rogue River. We recommend buying a meal ticket and having a late lunch at Palmerton Park after the ride, while listening to the sounds of the band. Maybe even buying a beer for you and your friends.
19.6 route
This route goes to Gold Hill, crosses over the Rogue River before heading north back to Rogue River and finishing at Palmerton Park.
Family Ride
start time: 11:00am
The post race celebration will be held at the Palmerton Park Arboretum, a beautiful park nestled along the banks of sparkling Evans Creek.  Big trees, green lawns, a pedestrian suspension bridge and the friendly and supportive community make this an amazing place to hold the RTR event.  This is also why we limit the amount of riders to 1200 as this location is special and it would be difficult to replace without losing the true quality of the experience.
Ride the Rogue is more than a ride, it showcases the splendor of Southern Oregon's incredible beauty, it's people and epicurean delights.
All proceeds support the development of the Rogue River Recreational Corridor and Greenway project.  Click on the Greenway logo to learn more.