What Our Riders
Are Saying!
Last Saturday [9/24/2022] I did the "Ride The Rogue" bicycle event in Rogue River, OR.
One of the great things about the event is there are several ride options so everyone who has a bike can enter, or borrow your neighbor's bike. There are support people along the routes to help if your bike gets a flat or something else. The ride options are: 19.6, 37, 67 mile. If you didn't go to the event you missed out BIG TIME!
I did the 19.6 miles because I hadn't been on my road bike for 20 years and my mt. bike in 8 years. I rode my mt. bike with the knobby tires, which I wouldn't recommend as this is much harder work than regular street tires. Next year I will put on street tires. It took me less than two hours to do my ride and with clear skies and just the right temperature the ride was over too soon.
As I pulled in to Palmerton Park I could hear a live kind of rock/blues band playing and I could smell bar-b-que'd chicken. There was also pasta, home-made beans, salad, and pie or cake. Beer was extra and the fresh water was free. It would be worth paying for the ride and just sitting in the park and eating; just kidding. The ride was smooth and all the riders so friendly and up-beat. Next year I will do the 37 miles and the year after the 67. Lots to look forward to.
The Ride the Rogue bicycling event is an event for all ages (I am 77). There were kids by themselves, younger kids with parents, and old people like me that have a lust for life. Make a note to yourself for next year's event or even better go to their web site ( www.ridetherogue.com) and sign up for 2023, that way you don't have to think; they just send you an email when the event is coming up and when to sign up. Honestly, this event is the best thing happening — a Southern Oregon Cycling Adventure in September and this is a fund raiser for the Rogue River Recreational Corridor and Greenway projects.
Jim from Ashland
A Southern Oregon Cycling Adventure!
All the rides have plenty of rest stops so you can ride light, and as fast or casual as you like!  Sag support is available if you need it.
Packet pickup Sept 22nd, 3 to 6 PM at Palmerton Park and starting at 7:00 AM on Saturday.
Watch a recent News Story!
Ride start times:
Metric              8:30 AM
40 Mile            9:30 AM
20 Mile            10:30 AM
Riders must start within a half hour of the official start time to have full access to the rest stops and ride support on their route. If you begin later, you risk not having ride support.
E-bikes are welcome for the ride!
Metric 67 mile
This route is just a shorter version of the Century route with 3 rest stops along the Rogue River.
37 mile route
This is a shorter version of the metric route with 1 rest stop on the Rogue River.
19.6 route
This route goes to Gold Hill, crosses over the Rogue River before heading north back to Rogue River and finishing at Palmerton Park.
The post race celebration will be held at the Palmerton Park Arboretum, a beautiful park nestled along the banks of sparkling Evans Creek.  Big trees, green lawns, a pedestrian suspension bridge and the friendly and supportive community make this an amazing place to hold the RTR event.  This is also why we limit the amount of riders to 1200 as this location is special and it would be difficult to replace without losing the true quality of the experience.
Ride the Rogue is more than a ride, it showcases the splendor of Southern Oregon's incredible beauty, it's people and epicurean delights.
All proceeds support the development of the Rogue River Recreational Corridor and Greenway project.  Click on the Greenway logo to learn more.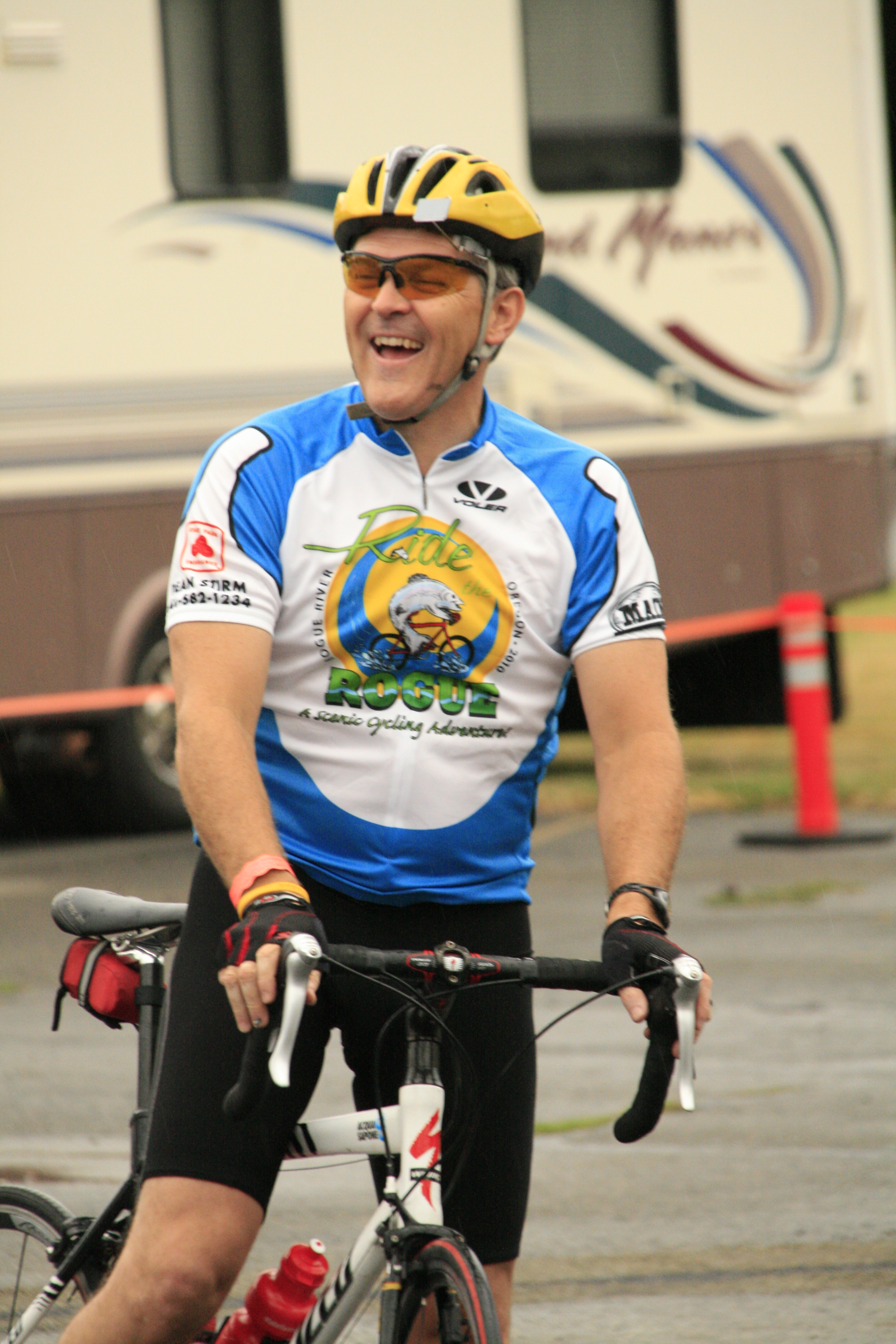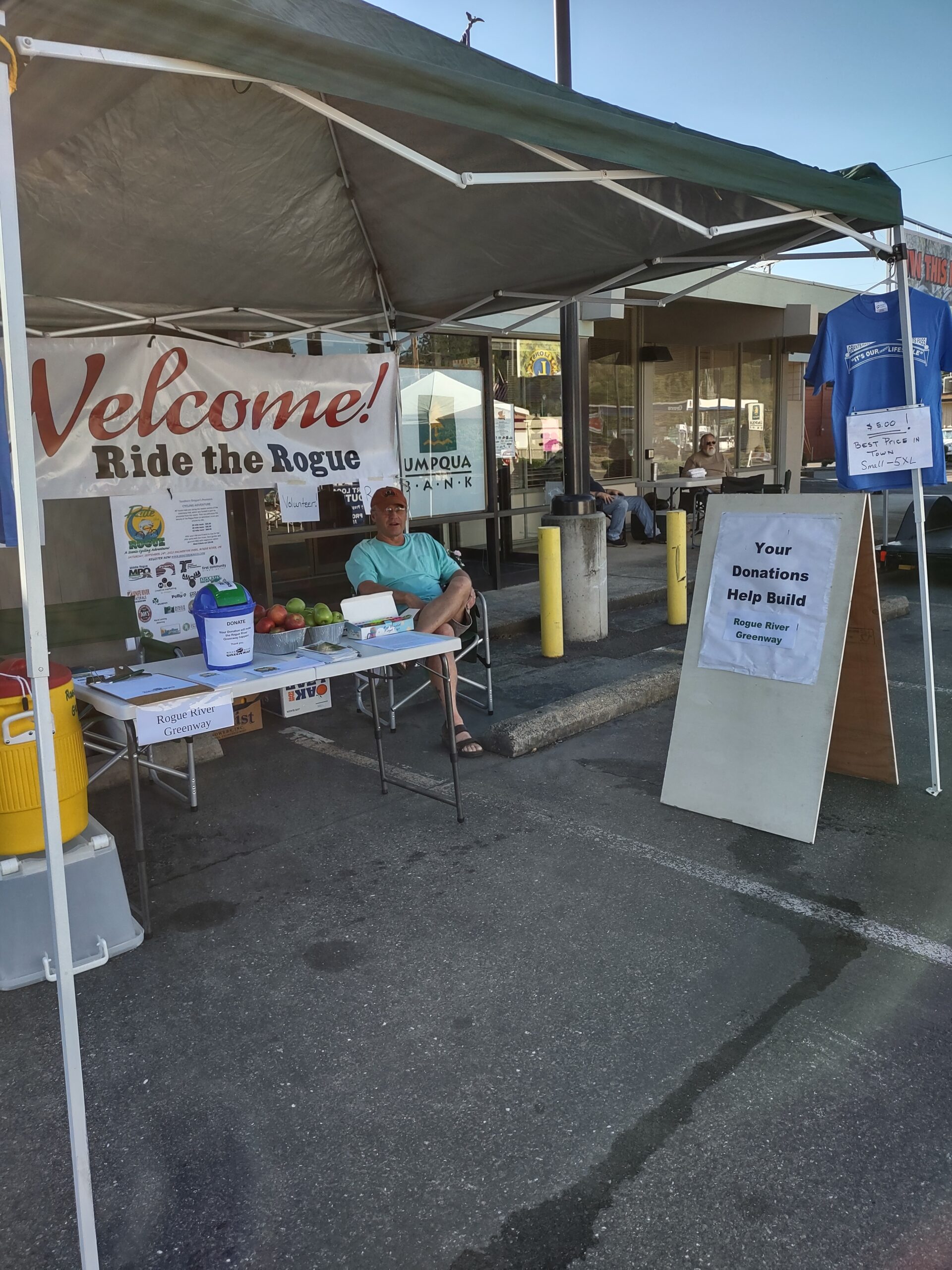 The RTR booth at Rooster Crow
Platinum Event Sponsors